A summertime stunner! The Maritana™ Collection of Alonsoa is a line of variegated varieties that have a profusion of large, diascia-like flowers month-after-month. These plants thrive in the heat of summer, but will continue to flower in winter months in mild climates. Excellent both in gardens or used in mixed containers.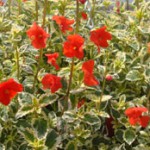 Alonsoa Maritana™ Red
Bright scarlet blooms on white and light green variegated foliage.
Origin: United Kingdom
Description / Plant Notes:
USDA Zone 9 (20ºF or -6ºC)
Tender perennial plant
World's first variegated Alonsoa varieties